Thank you everyone for attending MakeImpactNYC 2014...
a groundbreaking new conference bringing together the New York City
entrepreneurs, leaders, and changemakers building the social impact economy.
Exploring how NYC nonprofits, businesses & startups harness the power of social enterprise.

Special thanks to our "Social Good Heroes" -our Sponsors...
Entrepreneur
s and
startups compete for $5K in cash and $25K prizes!
Startup pitches, music, performances, & audience voting!
Winner of $4K Cash Prize:
Winner of Audience Awards of $1.5K Prizes
Support their Indiegogo campaign.
Announcing CEDI as our Gold Battle Sponsor...
Battle of the Boro In-Kind Sponsors:
Tweet
@makeimpactnyc
#nygood or Pinterest us.
Share the love and get good karma all year long!
JANUARY 16, 2014, AT FORDHAM UNIVERSITY'S LINCOLN CENTER CAMPUS, entrepreneurs, educators, and social impactmakers from all five boroughs came together at Fordham University's B School near Lincoln Center to celebrate what makes New York great: innovation, community, ambition — and a commitment to make the whole city we call home a better place for everyone one in it. If you can make impact here, you can make impact anywhere.

 and co-hosted by Locavesting, Return on Change, & ThatMatters
"RT @lutzker: Eli Malinsky of @csiSL points out that self-interest and social impact are not in opposition. #nygood I am part of the culture…"
"RT @ginavergel7: "The #Fordham professors we have worked with are innovative & open to change." - Monika Mitchell of #goodbnewyork. @MakeIm…"
"RT @DannyR0jas: "Trust in your gift and it will take care of you"- David Thigpen Corners2Cornerstones #makeimpactnyc #nygood #socent @MakeI…"
"Adopt burning man principles to drive radical social change @twinmiki @MakeImpactNYC #nygood #justdo #makeimpactnyc #allow4inspiration"
RT @shaneSnipes: @prattincubator great thoughts about systems thinking behind incubator #nygood @MakeImpactNYC http://t.co/SmxbhPhnpi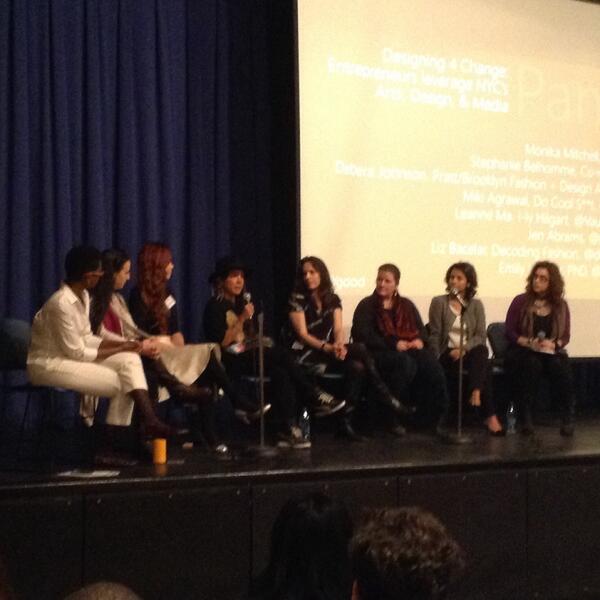 "RT @ALR716: Great day at #makeimpact #nygood #partners @dogoodbuyus http://t.co/smfYUUHVhm"
"Equity crowdfunding is a great way to fund social entrepreneurs who value ROI and doing social good. #makeimpactnyc #nygood"
""You can't build a sustainable business's unless you can sustain yourself." -@Return_OnChange Don't forget the business part in #NYgood"
"Hey foodtruckers, business can have a social impact too. Kudos to @DriveChangeNYC at #NYgood"
"Americans spend 17% of their incomes on food, and 15% on housing...down from roughly 30% in 1950. @denckla at #MakeImpactNYC #nygood"
@MakeImpactNYC event selfie, thanks 150+ attendees #nygood http://t.co/HV4WNi7sd7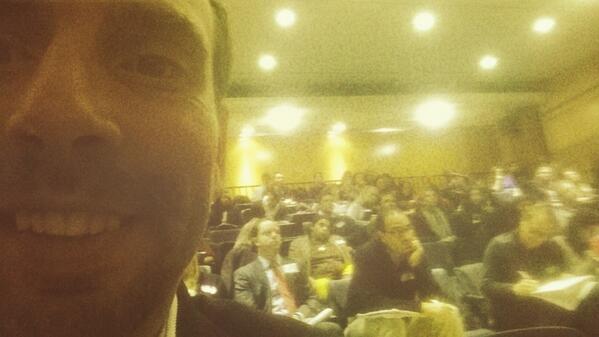 Ready to go on stage with @shaneSnipes @MakeImpactNYC! #nygood http://t.co/LozLgwBJwU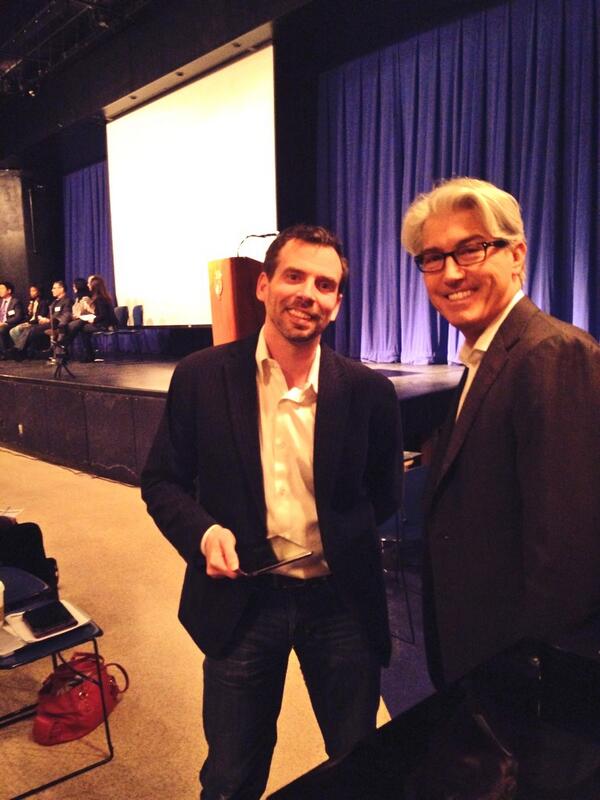 "At @MakeImpactNYC with @PaulPolizzotto & @shanesnipes! #nygood #unstoppable"
"Very enlightening and inspiring @MakeImpactNYC Thanks @shaneSnipes @Monika_Mitchell #makeimpactnyc #nygood Great job guys!"
"RT @DannyR0jas: "Trust in your gift and it will take care of you"- David Thigpen Corners2Cornerstones #makeimpactnyc #nygood #socent @MakeI…"
RT @DannyR0jas: Putting ad $$ to impact social change. @PaulPolizzotto @EcoMediaCBS #makeimpactnyc #nygood @MakeImpactNYC http://t.co/8eKRx…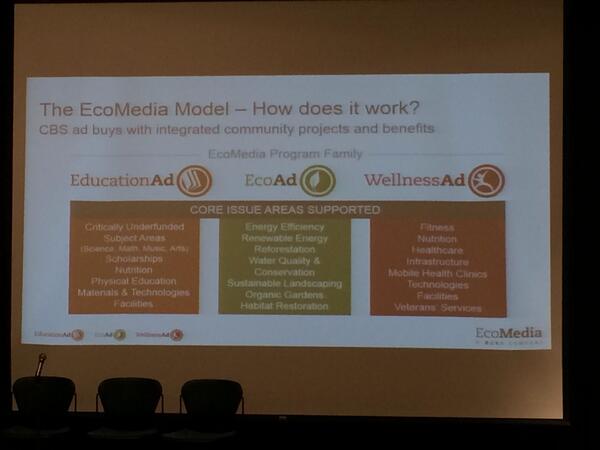 Make Impact NYC conference has officially started with our first panel: Incubating Change - Accelerating Social Entrepreneurship #makeimpactnyc #nyc #social #socent #business #economy #economics #newyork #localeconomy #entreprenuer #integrity #manhattan #revolution #innovative #creative #neighborhood #change #incubator #nygood #goodb
Designing 4 change panel - Entrepreneurs leverage NYC's Arts, Design, & Media #makeimpactnyc #nyc #social #socent #business #economy #economics #newyork #localeconomy #entreprenuer #integrity #manhattan #revolution #innovative #creative #neighborhood #fashion #nygood #arts #design #media #panel #artists
#socent food biz @makeimpactnyc panel heats up #nygood
Greenroom a buzz for lunch @makeimpactnyc - until we got shut down #nygood
Make Impact NYC
Do Good in Your 'Hood!
Join us to celebrate NYC's social entrepreneurship achievements, explore the city's pressing issues, and build collaboration and community across all 5 boroughs.
What to Expect:
Five Dynamic Speakers, Five Interactive Panels, Local Artists & Musical Talent Showcasing the NYC Social Entrepreneurship Ecosystem.

Topics to be covered include: Funding the impact economy; building community resilience through social innovation; incubating startups & collaborative social enterprises; fashioning change through arts, media, and design; and food as a force for good.

* Discover how New Yorkers are helping to solve some of the city's toughest problems by empowering people through entrepreneurial solutions.

* Meet and discover a range of change makers across NYC, from impact entrepreneurs and innovative startups to the people behind the incubators, collaborative spaces, educational programs, and funding opportunities that make NYC the social impact capital and inspiration for entrepreneurs everywhere.

"Battle of the Boros™ " Pitch for Impact Competition
Startups and social entrepreneurs from all corners of the city compete for the Best of the Boroughs crown $5K in cash from CEDI and $20k in-kind prizes! Get your borough pride on and join the fun. It's a rumble you won't want to miss! Have questions re: Battle of the Boros? Contact:
admin@makeimpactnyc.com
Applications open for Battle of Boros™ Entrepreneur Pitch Competition until 1/12/2014 (applications closed)

Rules and regulation available
here
.
PRESS
APP
Use the
MakeImpactNYC App
where you can check the schedule, interact with speakers via social media, and network with attendees. Download
www.CanWeNetwork.com
to network throughout the day of the event.



Battle of the Boros™ Pitch for Impact!
Presented by CEDI Society
Come watch as entrepreneurs representing the 5 boroughs battle for $5,000 in cash awards and $20,000 in in-kind prizes from The Moderns, CSR Wire, Centre for Social Innovation, GoodB, ThatMatters Live, Return on Change, Fordham Foundry, and Day Pitney Llp.
Who is going to win the Best of Boros "Social Good" Crown?

Live Hip-Hop Artists, break dancers,
Featuring MC Charlie Balducci
of NYC Arts Cypher from Staten Island
& perfomances by NYC Rapper Krempo, Sinistarz & Cyndikit

The finalists, culled from dozens of applicants across NYC, are: 
Concourse Markets (Bronx)
- an online platform for collaborative community lending
 Simply Grid (Brooklyn)
– delivers on-demand electricity for food carts & food trucks, eliminating pollution and noise
[$4K WINNER!] I Am Not A Virgin (Manhattan)
– 'eco sexy' denim line made with recycled plastic bottles
[$1.5K AUDIENCE AWARDS!] Sensational Sauces (Queens)
– all-natural, locally sourced and produced line of sauces
- They are on Indiegogo right now until February 7th, 2014.
Staten Island NYC Living (Staten Island)
– digital 'magalog' that aims to raise awareness of the culture, history and community of the 'forgotten borough'
Finalists Announcement Press Release


Our esteemed panel of judges:
Derek Denckla - Slow Money NY
Anne Field - Journalist
Mitchell Fillet - Fordham Foundry
Matthew Henninger - CEDI Society
David Postolski - Day Pitney
Shereen Shermek - Launch Angels
David "Beggz" Thigpen - Corners2Cornerstones
Kim Wales - Wales Capital

Our app generously brought to you by CONFUI, an event app company.

Agenda (and network through 2014 using MINYC app)
8:30AM
Good Morning New York!  Short Welcome chats:
Michael Pirson PhD. – Can We Change the World through Education?
Donna Rapaccioli, PhD. - Dean of Gabelli School of Business @ Fordham -
How Business Schools Can Support Social Entrepreneurship
Monika Mitchell - Founder GoodB: How Social Impact is Remaking New York
Morning Keynote:
Katie-Hunt Morr – ETSY: Values & Impact
Connecting Through Consumerism
9:25AM
*Google Hangout Session from Mumbai
Rasanath Das – Words of Wisdom for Sustainable Impact from internationally-renowned "Investment-Banker-Turned-Yogi "
Reminder: Connect all day with MakeImpactNYC app by Confui and www.CanWeNetwork.com app.
9:30 AM
Incubating Change - Accelerating Social Entrepreneurship in NYC
How are collaborative co-working communities amplifying social impact?
Moderator
Shane Snipes, Founder & Managing Partner - ThatMatters
Panelists
Marissa Feinberg- Green Spaces
DB Lampman & Scott Van Campen - Staten Island MakerSpace
Christine Janssen-Selvadurai, PhD – Fordham Foundry (Bronx)
Eli Malinsky - The Centre for Social Innovation
Franklin Mora - Queens Economic Development Council | The Kitchen
10:40 AM
ImpactChat
"The American Gangster Guide to Being Your Own Boss"
David "Beggs" Thigpen –Author- CEO - Corner2Cornerstones.com
10:55AM
Designing 4 Change: Entrepreneurs leverage NYC's prominent position in Arts, Design, & Media to affect Social Impact
Moderator
Monika Mitchell: Founder: Good-B
Stephanie Belhomme - Facilitator, Harlem CC
Panelists
Debera Johnson - Pratt/Brooklyn Fashion + Design Accelerator
Miki Agrawal - Do Cool S**t
Leanne Mai-ly Hilgart - VauteCouture
Jen Abrams - OurGoods
Liz Bacelar - Decoding Fashion
Emily Lutzker, PhD - OpenInvo
11:45PM
ImpactChat: Taking Entrepreneurial Risks That Change the World
Miki Agrawal – founder- THINX

"Smart Underwear"
12:00PM
Lunchtime - (on your own - Fordham Eaterie, or neighborhood)
Meet the Social Impact Community: Network, Shop, Buzz, Chat with Speakers!
Expo & displays: DoGoodBuyUs, Edible Manhattan/Brooklyn, FromTheBronx, Centre for Social Innovation, Etsy, Opportunity Lab, Green Spaces/ImpactHub, Bronx Beer Hall, Fordham Foundry, Coalition for Queens, The Kitchen, OpenInvo, THINX, WildinNY.

1:00PM
Impact Yoga:
5 min yoga meditation and visualization
Yanti Amos: founder: EarthYogaNYC.com
& Dave Parke of EarthYogaNYC.com
Reminder: Connect two ways before, during and after event with MakeImpactNYC app by Confui and www.CanWeNetwork.com app.
1:05PM
Stirring up Change: Food as a Force for Good
Food enterprises utilize the ancient custom of "breaking bread" to grow the social impact economy.
Moderator
Gabrielle Langholtz , Editor: Edible Manhattan/Brooklyn
Panelists
Derek Denckla-Slow Money NY
Jordyn Lexton- Drive Change
Kristine Garlisi -Common Cafe
Baron Ambrosia-Bronx Culinary TV
Robyn Hillman-Harrigan –Shore Soup Project
1:55 PM
ImpactChat
Why it's Important for Women & Girls to Innovate Social Change?
Reshma Saujani – CEO – Girls Who Code
2:10PM
Funding the Impact Economy: New Alternatives for Social Entrepreneurs
How are new financial innovations for raising capital creating broader opportunities for Social Impact Investment?
Moderator
Amy Cortese – Author of "Locavesting"
Panel
Liezl Van Riper - Kiva Zip
Sang Lee - Return on Change
Peter Strugatz - Strugatz Ventures
Kim Wales – Wales Capital
Biran Blake - Spring Bank New York
3:20PM
Afternoon Keynote

Paul Polizzotto – CEO EcoMedia – (a CBS Media Company)
Creating 'Forever Companies' in New York City
3:35PM
The Connected Economy: Building the Impact Ecosystem for our Communities. Entrepreneurs use Social Innovation to Create Pattern-Breaking Change for Good.
Moderator
Sang Lee – Founder - Return On Change
Panel
Erin Barnes - ioby
Dan Miller - Fundrise
Bruce Lincoln - Silicon Harlem
James Hong - MinKwon Center
Jukay Hsu - Coalition for Queens
Anthony Ramirez - Mainland Media
Donnel Baird – BlocPower
4:30PM
MakeImpactNYC Meetup with: ThatMatters Live Web Show Hosts:
Shane Snipes & Monika Mitchell - hosts of ThatMatters Live web series featuring: "Entrepreneurs Who Do Good"!
Facilitated Audience Interaction & Sharing- What's Your Impact in Your Community?
4:50PM
Summing it all Up!
Michael Pirson – What We Learned Today
Monika Mitchell –Where Do We Go From Here?
Last words: Meet the MakeImpactNYC Team
5:05PM
Do Good In Your 'Hood Reception
Networking, Music & Meetup for the Impact Community: MINYC Participants & Attendees!
6:05PM - 8:30PM
Battle of the Boros™ Pitch for Impact!

Sponsored by CEDI Society
Citizens Economic Development Initiative
$5,000 in cash awards donated by CEDI & $20,000+ in in-kind prizes from
The Moderns, Centre for Social Innovation, GoodB, Fordham Foundry, Day Pitney Llp, ThatMatters Live, Corfui. Live hip-hip music & dance performances from across NYC courtesy of the NYC Arts Cypher from Staten Island <more info>